Trust Healthcare Again
AVALA, located in the heart of St. Tammany Parish, is a premier 21 bed hospital where the region's most skilled physicians practice in an elevated, progressive environment.
Since we're physician-owned, we can create a setting where patients are the priority. Because while we offer the most innovative medical technology and state-of-the-art hospital, imaging, and physical therapy services, we still believe that quality care requires quality people.

At AVALA, we think about healthcare differently. Our belief is that where there's trust, there's healing. That's why our goal is to create greater trust between our physicians and our patients—and cultivate an environment where there's more care in healthcare.

It starts by us taking care of our physicians, so they can take care of you. But it ends with a state-of-the-art medical campus where patients and physicians can build relationships to create greater healing. It's what makes us different—and the right choice for you.
As one of the top healthcare innovators in the area, AVALA has received several recognitions from our local and national communities.

2018 St. Tammany Chamber Innovation Award
2019 Top 10 Hospitals in the United States for Reputation
2019 St. Tammany Chamber Site to See Award
2019 Times Picayune/Advocate Top Workplace
2019 Times Picayune/Advocate Direction Award
2020 Time Picayune/Advocate Top Workplace
2020 EDGE of the Lake Magazine Favorite Surgery Center
2020 New Orleans CityBusiness Best Places to Work
2021 EDGE of the Lake Magazine Favorite Surgery Center
2021 USA Healthcare Top Workplace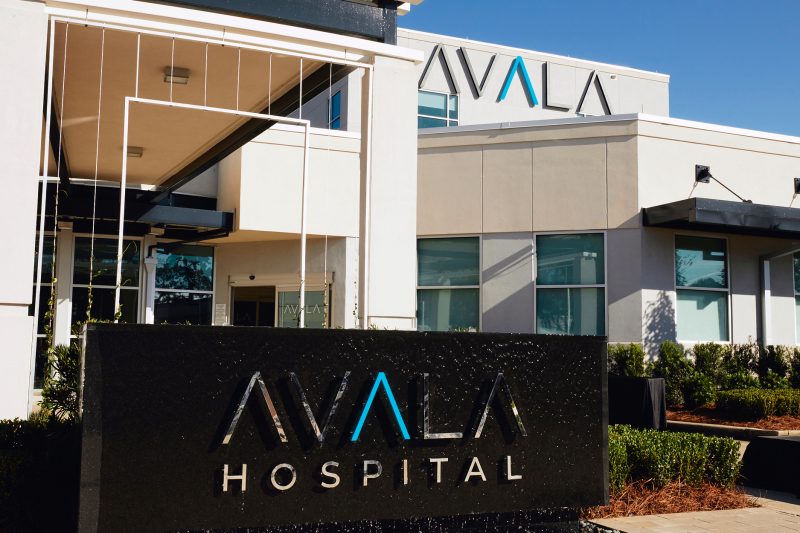 Our Campus
AVALA Hospital, a 21-bed hospital offers some of the most innovative and minimally invasive surgeries and procedures in Louisiana. Offering a wide range of specialties and services including robotic surgery, AVALA Hospital scores in the top 6% in the nation when comparing quality healthcare.
Our physician partners are at the top of their surgical specialties and are committed to providing the best services to our patients with the most comfort and care possible.
AVALA Imaging Center utilizes the latest state-of-the art diagnostic imaging technology to provide fast and clear imaging for our patients. The AVALA Imaging Center team is prepared to make your patient experience as stress-free as possible – Including flexible scheduling and a clean, spa-like environment combined to deliver you the best care possible.

Our Imaging Technology Includes:

Arthrography
CT
MRI
Nuclear Medicine
Ultrasound
X-ray

AVALA Physical Therapy services provides comprehensive individualized evaluations and treatment plans for individuals who have physical limitations due to acute or chronic conditions. Our well-equipped 3,500 square-foot clinic provides our patients with access to a variety of physical therapy technology.
Events for April
1
2:00 pm - 3:15 pm
Events for April
2
No Events
Events for April
3
No Events
Events for April
4
No Events
Events for April
5
No Events
Events for April
6
10:00 am - 11:15 am
Events for April
7
No Events
Events for April
8
9:00 am - 3:00 pm
2:00 pm - 3:15 pm
Events for April
9
No Events
Events for April
10
No Events
Events for April
11
No Events
Events for April
12
No Events
Events for April
13
10:00 am - 11:15 am
Events for April
14
No Events
Events for April
15
2:00 pm - 3:15 pm
Events for April
16
No Events
Events for April
17
No Events
Events for April
18
No Events
Events for April
19
No Events
Events for April
20
10:00 am - 11:15 am
Events for April
21
No Events
Events for April
22
2:00 pm - 3:15 pm
Events for April
23
No Events
Events for April
24
No Events
Events for April
25
No Events
Events for April
26
No Events
Events for April
27
10:00 am - 11:15 am
Events for April
28
No Events
Events for April
29
2:00 pm - 3:15 pm
Events for April
30
No Events